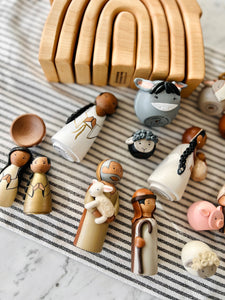 The Hope That Inhabits
A One-of-a-Kind Hand-Sculpted Clay and Wood Nativity
My very last nativity of 2023! Ready to ship this week.
Shop Now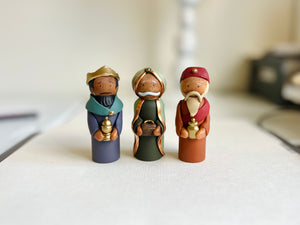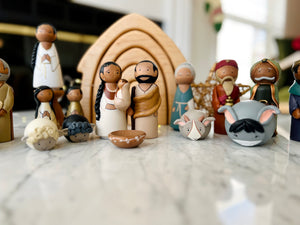 Sale on ready to ship items from the Fall Collection!
Welcome to Inclusive Pegs
Highly detailed, hand-painted collectables that celebrate diversity and inspire hope. Stay a while, browse around at some adorable pegs, and start collecting today!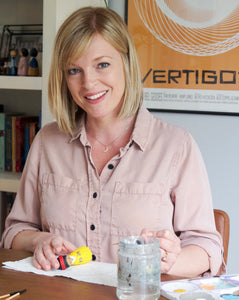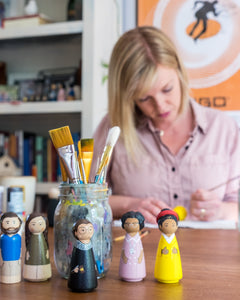 What Our Customers Have to Say
"I am very rarely impressed by custom work that I have done. Getting a nail art manicure, a custom bday cake- like it's honestly a curse. What I receive never matches what I have imagined. With that said….Hannah!!!! I just opened the package and I AM IN AWE!!! I literally gasped with each one I opened. The resemblance is uncanny. I don't know how you did it. I'm just floored. Even my husband was impressed and that also says something. I literally can not wait to give this to them at Christmas. Thank you so much for sharing your artistry." -Emily G.
"I recently ordered a full nativity set. It was packaged so beautifully and thoughtfully, when I unwrapped each piece tears came to my eyes. The set is so beautiful and each piece has such beautiful thoughtful details. This is a nativity I feel so proud to share with my kids and will be a family treasure forever!" -Emily W.
"My husband bought me the full set last year. I had been looking for a more realistic non-white nativity for years. It was one of the best gifts I've ever gotten. I love that my child could hold and kiss baby Jesus, and I didn't have to worry she was going to break him. Just seems like keeping Jesus away from kids is missing the point, right? I also love that this is not a tacky set only for children - this is a family heirloom." -Sarah F
"I wish I could give more than 5 stars! I reached out after seeing a friend's peg, and got a response almost immediately. The finished product is beautiful! The packaging was great, too. Definitely gift wrap ready. If you're looking for a unique and personalized gift of quality from an artist who also has amazing customer service, look no further!" -Blake H.
"I just received pegs of my family gifted to me for my birthday and I'm OBSESSED. The attention to detail is mind blowing and my daughter is in love with them (especially the one that looks like her). Cannot recommend these enough! Thank you! We will treasure them." -Mandy H.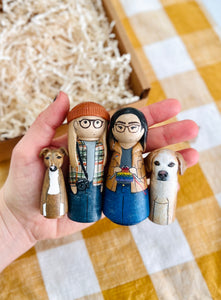 "And above all, watch with glittering eyes the whole world around you because the greatest secrets are always hidden in the most unlikely places. Those who don't believe in magic will never find it."
― Roald Dahl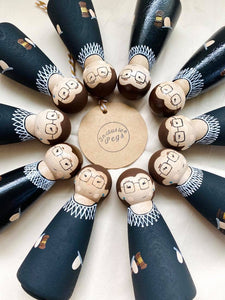 Thank you!
Thanks for being a part of the Inclusive Peg Community! This small business thrives on the support of customers like you. Happy browsing!
Love and Pegs,
Hannah